You asked us to pick just one craveable CPG Food campaign?
Okay, that's a hard one.
The 2x4 campaign that best "created taste appeal"? Well, it's hard to beat our work for Koops' Mustard —
We will admit, we did not know that Koops' was the best mustard on the planet. But then they hired us to help rebrand and reposition their delicious mustard. So, naturally we ate a TON of it. And now that we know how awesome their mustard tastes, it's pretty easy to sell it to people.


(Please NOTE: This page is best viewed on a laptop or desktop computer.)
FIRST —
we began with a complete redo of their brand—new logo design, new package design, new sales materials, new merch, and a new website & microsite.
CORPORATE IDENTITY, PACKAGING, & MERCH DESIGN EXAMPLES:
ADVERTISING CAMPAIGN —
Once we reestablished the brand we turned our attention to brand advertising, specific product flavor advertising, recipe advertising, sponsorships, promotions, in-store advertising & merchandising, social media, and even parking lot advertising.

BRAND ADVERTISING EXAMPLES:
(WE DARE YOU TO PLAY IT.)
SPECIFIC PRODUCT FLAVOR ADVERTISING EXAMPLES:
RECIPE ADVERTISING EXAMPLE:
IN-STORE ADVERTISING & MERCHANDISING EXAMPLES:
SOCIAL MEDIA CONTENT EXAMPLES:
IN-PARKING LOT ADVERTISING EXAMPLE:
5 YEARS, 11 MONTHS AND 22 DAYS (and counting) —
That's how long we have been the Koops' Mustard Agency of Record. And that long tenure gives some credence to the outstanding relationship we have and the results driven work we have created for this up and coming challenger brand. But in actual numbers, the following demonstrates that our reinvigoration of the Koops' Mustard brand continues to be very successful and efficient—using a digitally-focused, performance based, non-mass media approach.
UNIT SALES HAVE GROWN 66% SINCE WE BECAME AOR.
SOCIAL MEDIA RESULTS —
Our analysis of Koops' Mustard's social media audience revealed that their biggest fans were older and loved to cook—freely exchanging recipes and following those brands that supported this activity. So we shifted their social media strategy towards Facebook and began to feature many more recipes and usage occasions. This promoted connection and the exchange of information. The result?


Facebook followers have increase ten times and are growing.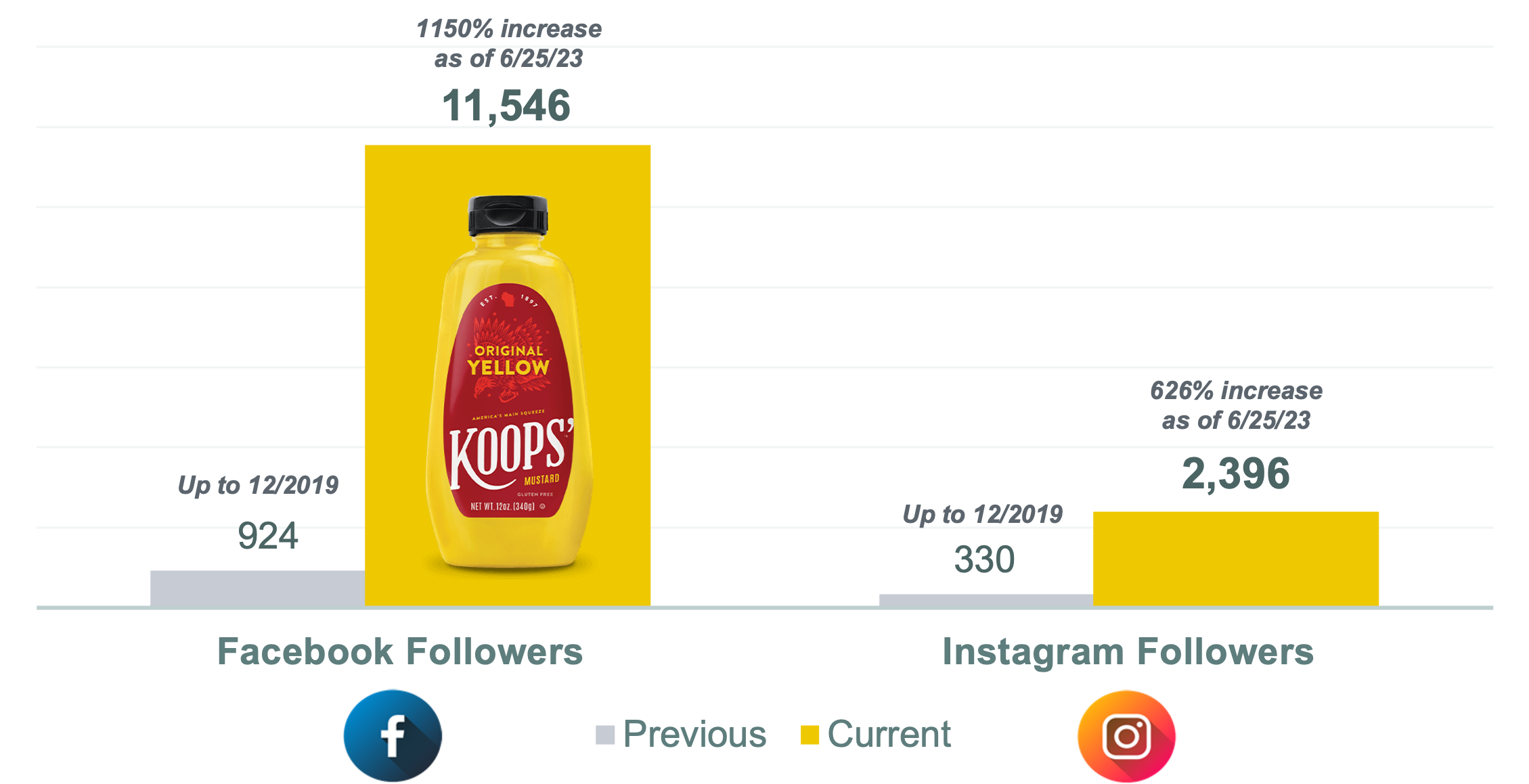 Influencers (otherwise known as 'Foodies'.)
Two by Four worked with 10 food and lifestyle influencers in major US cities including Chicago, New York City, Denver, and Austin. Posts ran from October 2021 – December 2021. During this short three-month timeframe, Koops' saw an 8.6% social media follower increase. Influencer posts drove over 2K social engagements, 136,706 in reach, 1,783 likes, and 457 comments—showing strong future purchase intent. Select influencers included the promo code KINF2021 in their posts. The promo code resulted in $3K in sales.